Remote working has literally opened up a world of possibilities for the modern employee. Workers can ditch the commute, gain more flexibility for family life and find better productivity time away from busy workplaces.
Remote work also opens the door to an exciting prospect, the opportunity to work from just about all the remote working locations you can think of.
Plus, research shows that changing up your work environment can have massive benefits to your creativity and productivity levels at work.
If the thought of global adventures has you reaching for your passport, there are a few questions which need to be answered first.
How can I create an awesome CV for remote positions? Which countries are leading the way in remote working? Where are the best places on earth to set up your temporary office? How do I ace my remote work job interview? What do you need to know before you decide to embrace the #wanderlust full time?
What is a digital nomad?
A digital nomad is an employed or self-employed person that travels around the world whilst working. Digital nomads have the opportunity to work from anywhere in the world (that has WiFi), often working in one country for several months before moving on to the next.
Digital nomads are more global citizens than travellers – they don't just visit a country, they have the opportunity to live there and embrace the local lifestyle.
The concept of a digital nomad is rapidly reaching a fever pitch. As work becomes more flexible, many are taking up the opportunity to take their digitally-based work abroad.
"Many of my days here are not too dissimilar to my life in London," wrote digital nomad Danish Soomro for The Guardian in 2018.
"But the unfamiliarity means there is excitement in the most mundane tasks, such as ordering lunch or taking a (motorbike) taxi. Using a popular coworking space also offers me the chance to regularly meet new people, and there is a thrill in not knowing who might walk through the door each day."
How can I work remotely abroad?
There are five things that you need to be aware of before you start your remote working adventure.
1. Your employer needs to be on board
Even though the working world is changing rapidly, there's no guarantee that your employer will be supportive if you decide to start looking for remote working locations.
If your position is suited for remote working (think computer programmer, writer, social media manager, analyst, software developer) then you're in a good position to put together a business case for remote work.
Did your workplace have team members work from home during the pandemic? Use this as a case study to demonstrate how productive you can be in an external environment.
Try to pre-empt their concerns and show how you will manage time zones and productivity.
2. What kind of visas are available?
Generally, long-term visas require some kind of local employment, ensuring income tax flows to local economies. This has often posed an issue for digital nomads, as working in a country for long periods of time can become legally problematic.
With a tourist visa generally lasting between 30-60 days, many nomads might find themselves travelling more than is practical.
A recent example – this year Estonia began offering the first Digital Nomad Visa, allowing visitors to legally work as international employees or self-employed workers in the country for up to a year.
Whilst these types of legal arrangements are becoming increasingly common, they're not a certainty. Make sure you're doing things by the book of the country you're in to avoid local penalties.
3. Is there internet access?
A fast internet connection is a beautiful thing. Make sure that wherever you're going, you have access to WiFi that can handle downloads, uploads, video meetings and instant messaging.
There's nothing more frustrating for digital nomads than a dodgy internet connection, especially when there is an important presentation or deadline to nail.
If there's no WiFi at your accommodation or Airbnb, are there coworking spaces in the country you're working? What about a cafe or library?
In some countries, pocket WiFi is a great low-cost option that you can take anywhere.
4. Managing time zones
Keeping in touch with your colleagues is incredibly important for remote workers. Is there a daily meeting or briefing that you need to be a part of? Do you need to submit work every day at a certain time?
Although working asynchronously (at different times) is becoming more popular, you will need to come together with your team occasionally for collaborative work.
If you don't keep nocturnal hours, you may instead want to travel in a certain area that has some overlap with your employer's time zone.
You may also choose to negotiate certain meetings, so you're only inconvenienced a couple of times a week.
This can also affect those who are self-employed. Consider your clients' needs – will they need you to be online at certain hours? Will you need to provide customer service in certain time zones?
5. Is it the right lifestyle for you?
Yes, the notion of moving from country to country while working sounds very romantic, but it doesn't come without its challenges.
Even though the opportunity to make new friends and connections will be greatly increased, relationships from back home can feel the strain of extended periods apart.
There's also a necessity for minimalism when you're travelling from place to place. Are you happy to live off a suitcase of possessions and give up the comforts of a permanent dwelling?
Then there are the finances of it all. Working from around the world takes a lot of economic organisation. Many remote workers suggest having a form of passive income ready to help with the costs of travel and the cost of living that varies from country to country.
If that's not possible, at least having some backup savings and limited debt will alleviate any stress if you have to live simply for a while (although working from simple accommodation and eating cheap local eats doesn't sound so bad to us).
So, what are the best remote working locations?
So, you've decided the nomadic lifestyle is right for you? Here's our breakdown of the 12 best countries that are welcoming remote workers.
1. Antigua & Barbuda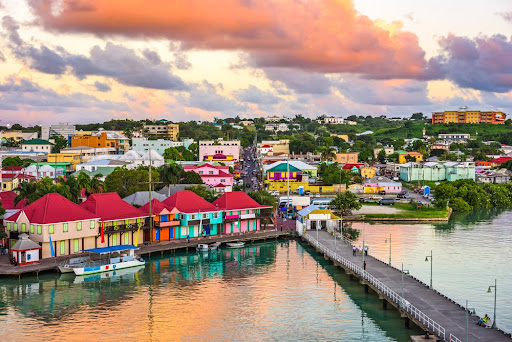 Antigua and Barbuda are islands that make up a nation located in the eastern Caribbean Sea, southeast of Puerto Rico. Lush and tropical, the islands are lined with beaches (365 to be exact) and are also home to the bustling capital city St John's.
This location is perfect for: Digital nomads who want to work from the beach and clock off with a rum cocktail.
Visa Options: The nation has recently announced a new visa called the Nomad Digital Residence (NDR), designed for remote workers or sole traders who can prove they are supporting themselves on a salary of at least $50,000 USD per year. The visa lasts for two years, and applicants are required to have their own health insurance. Learn more.
Cost of Living: $$
Whilst Antigua and Barbuda wouldn't be the most expensive location on this list, there is a fair amount of luxury tourism operating on the islands. You could easily spend a lot of money here, but more reasonable options are available, especially in Barbuda.
☕ Caffeine addicts be warned; a cappuccino could set you back between $7-$10 AUD.
2. Barbados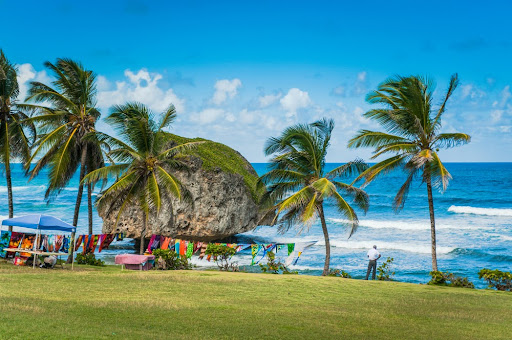 Also in the eastern Caribbean, Barbados is an island nation also known for its tropical beaches, many of which are famous for surfing. The Crop Over carnival is also a major drawcard for visitors to the island, with vibrant festivities taking place in June and July.
This location is perfect for: Digital nomads that enjoys surfing, eating delicious fish and enjoying a laidback lifestyle.
Visa Options: Barbados is currently offering a 'Barbados Welcome Stamp' – a visa designed for remote workers which lasts a year. Similarly to Antigua, you must be working remotely for a business outside of Barbados or be a sole trader and earning an annual salary of at least $50,000 USD. Learn more. 
Cost of Living: $$
Although the rent is generally cheaper in Barbados than in Australia, the cost of living is marginally higher. Most household goods are relatively expensive by global standards, but cheap eats are available in local markets.
3. Cayman Islands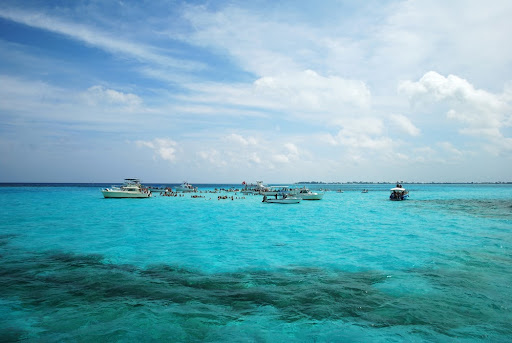 The Cayman Islands – Grand Cayman, Cayman Brac and Little Cayman – are famous for their beautiful beaches, at many of which you can spot large schools of stingrays. The islands are also known as the Caribbean culinary capital.
This location is perfect for: Exploring caves and beaches, swimming and eating.
Visa Options: Remote workers can live and work in the Cayman Islands for two years with the Global Citizen Certificate. Sole traders are not covered under this visa, you must be employed by a company outside of the Cayman Islands and be earning an annual salary of over $100,000 USD to apply.
Cost of Living: $$
You can expect to pay a little more on the Cayman Islands than elsewhere in the Caribbean due to the luxurious options scattered over the islands.
4. Costa Rica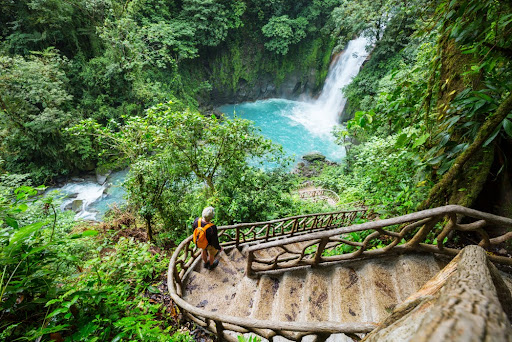 The Central American country of Costa Rica is rich with rainforests, volcanoes and beaches. Over 30% of the country is dedicated to National Parks, in many of which you can find zip lining, canyoning and rafting. The capital city of San José is full of beautiful architecture, delicious food and the national drink, coffee (Costa Ricans drink six cups a day on average).
This location is perfect if: You like drinking coffee in the sun as you answer emails.
Visa Options: The Rentista visa is open to foreign entrepreneurs and self-employed people; international employees are not eligible. Applicants must prove they have earned over $2,500 USD a month for two years or deposit $60,000 USD into a Costa Rican bank account.
Cost of Living: $
Outside of tourist hot spots, Costa Rica is a very affordable place to be. Housing, healthcare, entertainment and transport are all at lower costs than in the US or European countries. Groceries and eating out can be extremely cheap, especially if you shop at a local Feria (village farmers market).
5. Czech Republic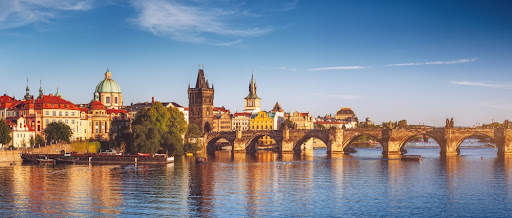 Live like royalty in the Czech Republic… it has the highest density of castles than any country in the world! As well as having beautiful cities like Prague that are dotted with world heritage sites, the Czech Republic is famous for its beer and brewery culture. Need we say more?
This location is perfect if: You like working from a castle window or starting a beer brewing side hustle.
Visa Options: The Zivno is another special visa that is only available to business owners and sole traders – and you must have a particular trade license for one of 80 chosen trades. To apply, you'll need proof of accommodation for a year and pay about $80 USD a month in local taxes.
Cost of Living: $
As well as having the cheapest beer in Europe, Prague is one of the most affordable European cities to live in. We'll say Na zdraví to that!
6. Dubai (United Arab Emirates)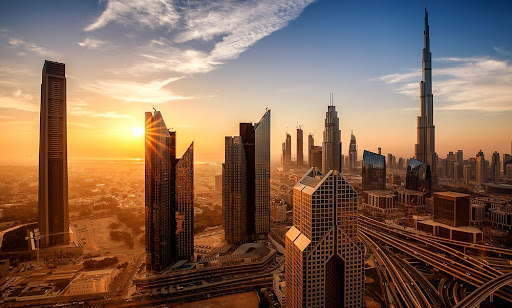 Dubai is one of the most unique cities in the world, with innovative architecture, historic sights, extensive shopping and exciting attractions. Wake up to the most impressive skyline in the world and spend your weekends exploring this modern art and design capital.
This location is perfect for: Catching up with other nomads over an incredible view – over 90% of the population comes from outside the country.
Visa Options: Dubai's One Year Virtual Working Program allows workers to work and live in the country for a year. To apply, you must prove that you have worked for an employer for at least one year or that you own your own company. You'll also need to earn at least $5,000 USD per month.
Cost of Living: $$$
In 2019 Dubai was ranked the 58th most expensive city in the world to live in. Whilst it may be 28% cheaper to live in than New York, the city is still generally synonymous with luxury.
7. Estonia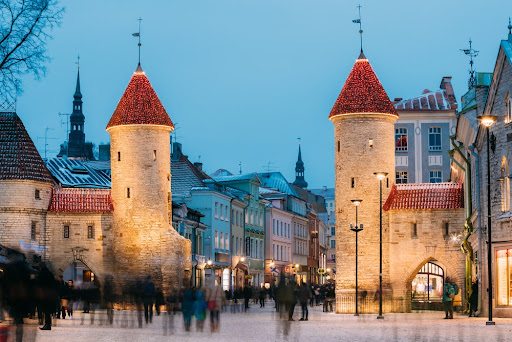 The country that Lonely Planet describes as 'absurdly photogenic', Estonia has not only beautiful cities but also three major national parks. In winter, cities and parks are transformed into something out of a fairy tale, with snowy shores and frozen lakes, plus ski trails for sports lovers.
This location is perfect for: Working on your photography hobby when you're out of hours.
Visa Options: The Digital Nomad and Freelancer Visa are valid for one year. The applicant must prove that they have earned at least €3504 per month for the last six months.
Cost of Living: $$
The general consensus is that living in Estonia is cheaper than living in other European countries. While prices may be high in the old town, generally accommodation, transport and food costs are affordable.
8. Georgia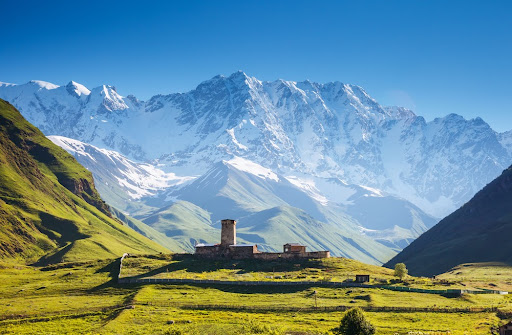 Georgia is a country located at the crossroads of Western Asia and Eastern Europe. The country has unique mountain landscapes (suitable for skiing) and Black Sea beaches, plus vibrant cities and excellent local wine.
This location is perfect for: Working in cafes on the corner of charming cobblestone streets.
Visa Options: The Remotely from Georgia special visa is available to people who own a business or are remote workers for a company outside of Georgia. You must prove financial ability to pay taxes whilst in Georgia and earn at least $2,000 USD a month.
Cost of Living: $
It's easy to make ends meet in Georgia. Generally, in line with other Eastern European countries, food is very affordable, especially if you're eating outside the main city centres and buying fresh groceries.
9. Germany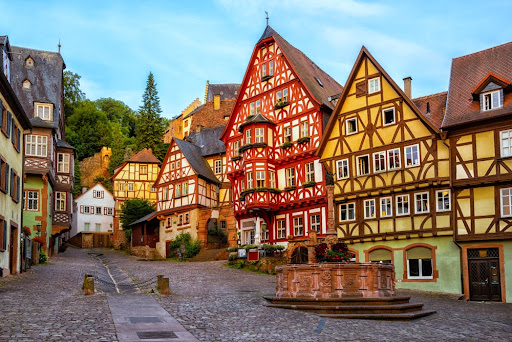 Ever wanted to live a creative lifestyle in Berlin? Maybe you'd prefer to explore the ancient city of Hamburg? Whether you're seeking medieval towns or holding out for Oktoberfest, Germany is a fascinating place to live and work.
This location is perfect for: Alternative coworking spaces nestled amongst incredible street art.
Visa Options: The Aufenthaltserlaubnis für selbständige Tätigkeit is a residency permit for self-employed and freelance workers that can last between six months and three years. To apply, you'll need a German address and health insurance to provide proof of financial self-sustainability and show that you have German clients.
Cost of living: $$
Germany is one of Europe's most livable countries, and the cost of living reflects that. While rental prices vary from city to city, living expenses are generally low.
10. Mexico

Yes, Mexico has beautiful beaches to explore and ancient ruins. It has beautiful vibrant cities full of amazing art and architecture. It also has a rich and fascinating culture. And all of this is underpinned by the unbelievable cuisine. From classic tortas and tacos to incredible seafood and Mayan delicacies – amazing food is a big part of Mexican living.
This location is perfect for: Working from a beautiful beach and clocking off early for a mezcal.
Visa Options: Mexico offers a temporary resident visa that lasts for one year and can be renewed for three years. The visa is open to remote workers and the self-employed, who need to show that they earn at least $1620 USD per month or have a bank balance of at least $27,000 USD to apply.
Cost of Living: $
Mexico is a very affordable country to live and work in, with living expenses being about 50% less than in Australia. The cost of rent and utilities is very low, and you can eat extremely well on a dime.
11. Portugal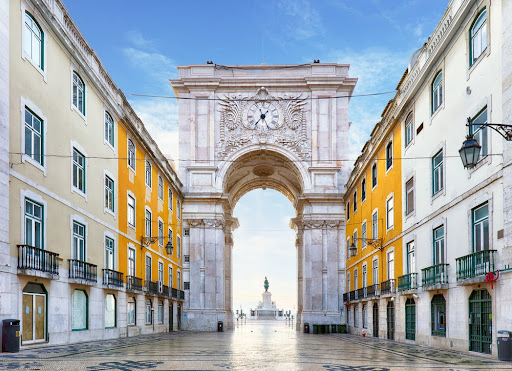 A pastel de nata (local custard tart) and a €1 espresso could make anyone fall in love with Portugal easily. The country has a lively coast complete with stunning beaches (and beach bars) and incredible cities full of art and history. Portuguese wine is definitely another amazing drawcard, and an incredible bottle will only set you back about €6.
The location is perfect for: Working from your choice of lively cafes while consuming all the tarts.
Visa Options: Portugal's visa option is open to both entrepreneurs and remote workers. You'll need to provide proof of income from property, proof of business ownership or proof of employment and financial means. You'll also need private health insurance and to be earning at least €600 a month.
Cost of living: $
We know Portugal is a very cheap place for the coffee lover (with the lowest priced coffee in Europe), and other living expenses also come in at relatively affordable prices. It's one of the cheapest places to be in Western Europe.
Disclaimer
The information in this article is current as at July 2023, and has been prepared by Employment Hero Pty Ltd (ABN 11 160 047 709) and its related bodies corporate (Employment Hero) for its Swag brand. The views expressed in this article are general information provided in good faith to assist job seekers in the current market, and should not be relied on as professional advice. Some Information is based on data supplied by third parties and whilst such data is believed to be accurate, it has not been independently verified and no warranties are given that it is complete, accurate, up to date or fit for the purpose for which it is required. Employment Hero does not accept responsibility for any inaccuracy in such data and is not liable for any loss or damages arising directly or indirectly as a result of reliance on, use of or inability to use any information provided in this article. You should undertake your own research and seek professional advice before making any important career decisions or solely relying on the information in this article.
Want more remote working tips?
We're sharing our top CV tips to get noticed when applying for a remote role.
Ready to hit your next online interview out of the park? Read these 13 virtual interview tips from the experts.
Starting a new job remotely with colleagues that are halfway around the world? Fear not, I've got you covered.